สุดยอดเวชสำอางดูแลเส้นผมจากญี่ปุ่น ได้รับการยอมรับมายาวนาน กว่า 25 ปี
สารสกัดจากพืชหายากในตำนาน สู่รูปแบบผลิตภัณฑ์ที่ช่วยดูแลเส้นผมและ หนังศีรษะ ตัวช่วยในการบำรุงเส้นผมอย่างล้ำลึก ทำให้เส้นผมแข็งแรง ไม่ขาดร่วงง่าย คุณภาพที่ได้ผ่านการวิจัยแล้ว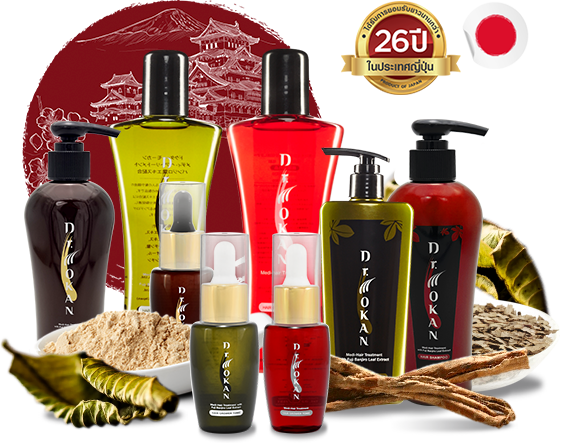 "With over 21 years of experiences in the dermatology and aesthetic surgery, patients from all over the world come to consult us with various kinds of problems. Thus, we learn and realize that problems of each individual are diverse. This is why we have established VedaLabs Asia Company to create high quality products by focusing on those that can solve abundant health and beauty concerns from head to toe for all Thais and Asians, with regard to high safety and standards as the main key."
Herbs: The Answers of All Health and Aesthetic Problems for Thousands of Years
With many years of study of medical education, we realize that herbs are the safest alternative that answers a variety of health and beauty issues without leaving any side effects as herbs are natural and different from those chemicals and modern drugs generally used in these days.
Herbs are products from nature obtained from plants, minerals, etc. They are mainly used in treating illnesses or nourishing our body. They also are widely known in every corner of the world since before modern medicines come to play a significant role in current medical treatments. Combined with the belief of both founders of VedaLabs Asia that good health can be obtained through natural means, we decide to focus on these herbs in order to solve these various problems.
However, there are a lot of herbs in this world so we cannot be sure which type is the true answer to one single problem. We, therefore, rely on herb-related scientific researches to ensure that our selected herbs are ones of the finest quality herbs out there that can deliver the best results for Asians.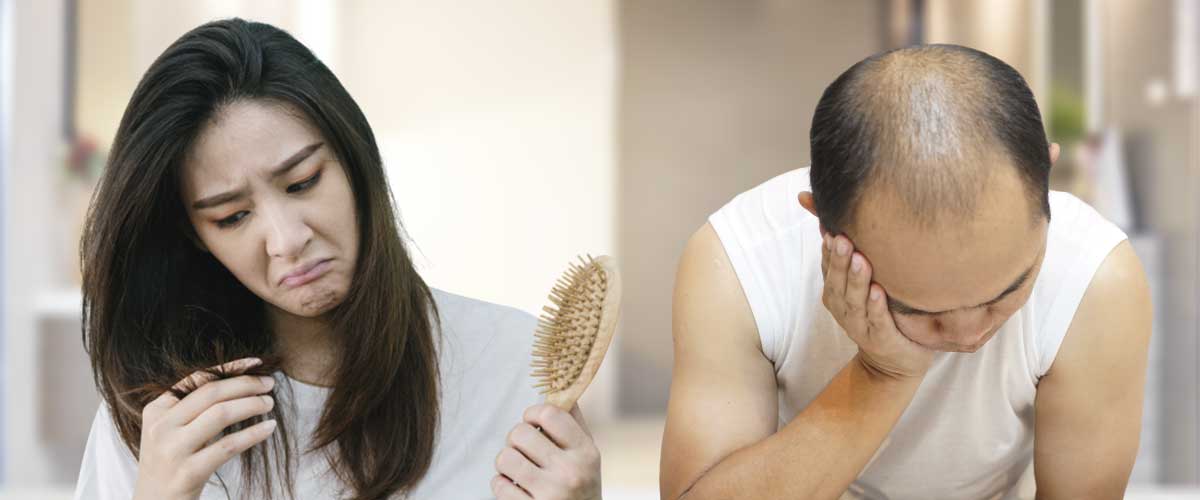 Since Hair Problems Cannot Be Ignored
"Hair problems whether hair loss or thin hair can occur to every person with all ages and genders. It is a problem that affects the mind since having premature hair loss is something that nobody wants to happen whether to themselves or those around them. And, to conceal these problems by wearing a hat or taking medication may not actually help solve the problem at its root. "
According to researches focusing on various problems of people, the first problem we encountered are thin hair and premature baldness. As a consequence, we choose to focus on developing products from herbal ingredients to cure such problems.
In the beginning, before the company establishment, we have realized that hair loss and thin hair in Asian people are crucial problems that occur for a variety of reasons such as pollutions, dusts and chemicals that jeopardize your hair on a regular basis which include dyeing your hair or styling products for men. Some hair problems are caused by internal factors such as stress, heredity, and abnormal hormones in the body. Unfortunately, various treatments for most hair problems often cause side effects, both from medication and external use cream, which lead to unpredictable results and even more concerning problems afterwards.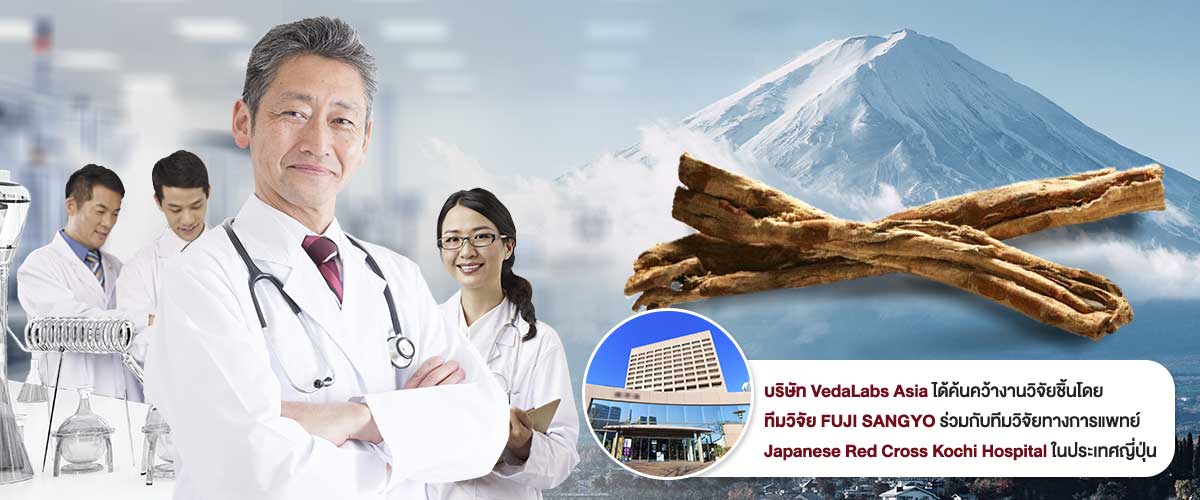 From Japanese Legend of Herbs, to Effective Hair Care Products
As a result of conducting various researches about herbal extracts that help nourish and restore hair problems, VedaLabs Asia decides to make a research in Japan with the FUJI SANGYO to research on the legendary herb called SOUHAKUHI EKISU, which has been known for its capability on hair restoration. Consequently, VedaLabs Asia starts collaboration with the research team to create a product line that is a cure for hair loss and thin hair.
Based on medical researches done at the Japanese Red Cross Kochi Hospital with a well-known medical team, SOUHAKUHI EKISU has been certified by the Food and Drug Administration of Japan as quasi-drugs which is as effective as taking medicine but has no side effects on the body.  Therefore, it can be used safely without the supervision of a doctor.
The reason that we are confident in the research conducted in Japan is because Japan is considered as a country that has a reputation for safety and high quality products which will ensure certain results due to scientific research supports.
The First Release with Unexpected Responses
The first release of Dr MOKAN hair care product, the red formula from SOUHAKUHI EKISU ROOT EXTRACT, an herb that has been researched that can maintain strong and healthy strands of hair. The red formula is under the Medi-hair Treatment concept, which is like taking care of hair by a specialist. This product line helps solve the problem of hair loss and thin hair caused by various factors such as stress, pollution, hair curing, dyeing, or hair damages by heat. In addition, the Dr MOKAN Red Series also contributes to the adjustment of the abnormal hair life cycle to return to normal and it also helps prolong the life of hair as well.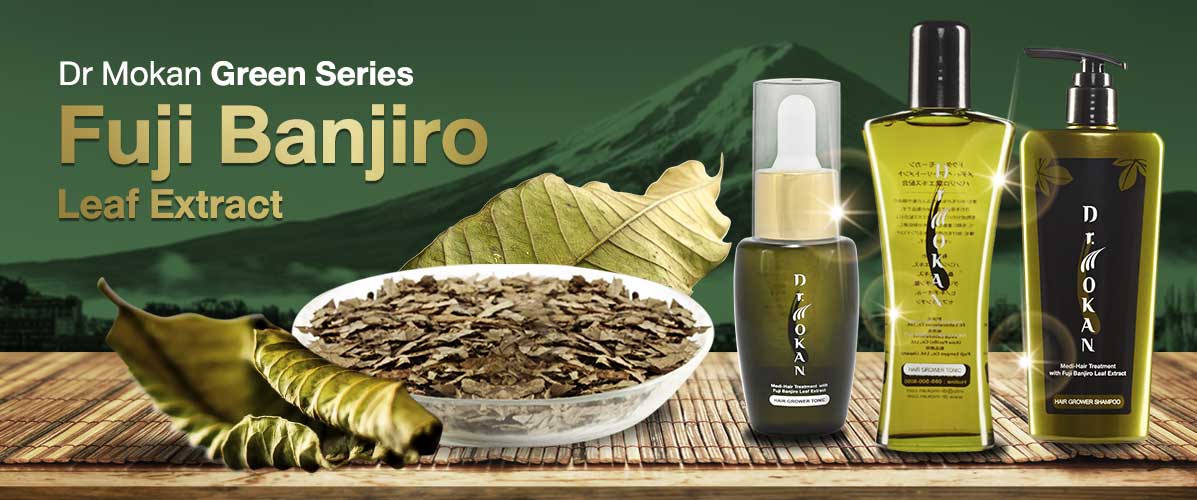 When Heredity Becomes the Unavoidable Factor of Hair Problems
After 10 years of positive feedbacks of Dr MOKAN Red Series, we have consulted with FUJI SANGYO in Japan in order to create a new formula for hair care products that are more effective in hair loss and thin hair resolves caused by hormones and genetics. Also, after 7 years of research, VedaLabs Asia and FUJI SANGYO have discovered another promising herb that can help solve hair problems from genetics, which is FUJI BANJIRO LEAF EXTRACT and when combined with the SOUHAKUHI EKISU ROOT EXTRACT from the red formula that is already well-known to our customers to create the Dr MOKAN Green Series that inhibits the action of hormones that are the main reason of hair loss and thin hair from heredity and it also has the ability to stimulate hair root cell division to create new hair cells and replace the old ones without any medication involved.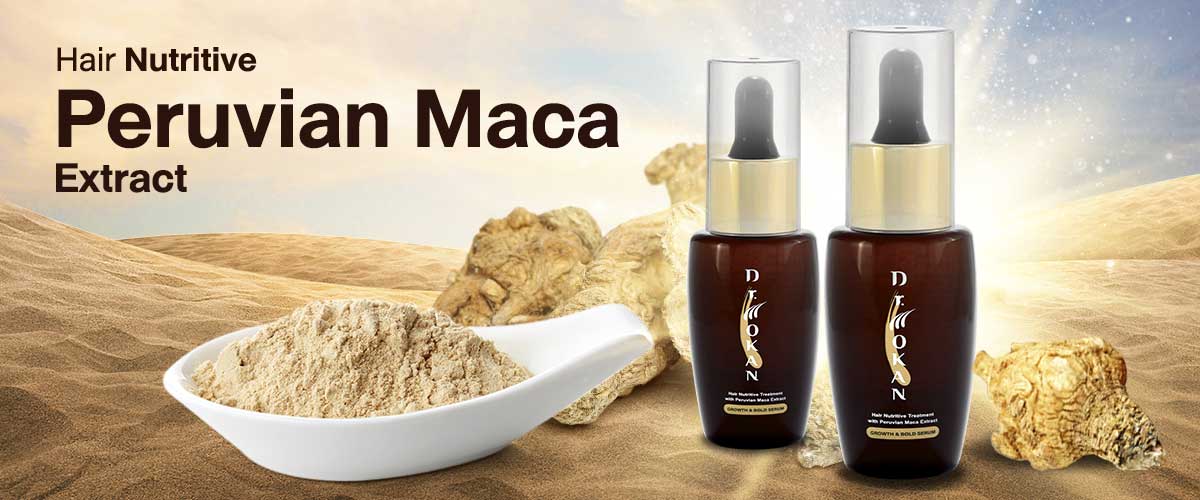 Maca...the Secret of the Inca Empire
After the success of two formulas that are popular among customers and distributors both in Thailand and neighboring countries, we have created another special formula that enhances the effectiveness of the existing both formulas, HAIR NUTRITIVE PERUVIAN MACA EXTRACT from the roots of the Maca, which is rich in more than 18 kinds of minerals to nourish thick hair. It acts as concentrated hair nourishment, helping the hair become thicker and get longer faster as well.
From legendary herbs certified by researches in Japan combined with the selection of the best that can fix the hair problem of Asian, VedaLabs Asia has initiated Dr MOKAN MEDI-HAIR TREATMENT including red formula, green formula, and hair nourishing formula – Maca extract – that help solve the different problems of people who experience hair loss and thin hair regardless of the reasons to be confident again.
Red Series สูตรดั้งเดิมกว่า 28 ปี จากญี่ปุ่น
เหมาะสำหรับผู้ที่มีปัญหาผมร่วงผมบางจากปัจจัย ภายนอกอื่นๆ ความเครียด มลภาวะ สารเคมี
Green Series สูตรสมุนไพรแท้สกัดเข้มข้น
เหมาะสำหรับผู้ที่มีปัญหาผมร่วงผมบาง จากพันธุกรรมและฮอร์โมน
Red Series สูตรดั้งเดิมกว่า 28 ปี จากญี่ปุ่น
เหมาะสำหรับผู้ที่มีปัญหาผมร่วงผมบางจากปัจจัย ภายนอกอื่นๆ ความเครียด มลภาวะ สารเคมี
Green Series สูตรสมุนไพรแท้สกัดเข้มข้น
เหมาะสำหรับผู้ที่มีปัญหาผมร่วงผมบาง จากพันธุกรรมและฮอร์โมน